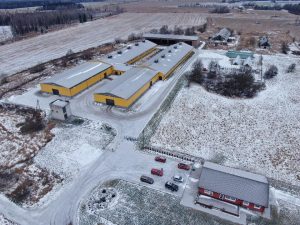 The first barn for 300 young animals and the fodder storage of Collection Centre of Animal Breeders´ Association of Estonia were opened in December 2015. The whole complex was ready by December 2016 (the 2nd barn for 300 animals, the 2nd fodder storage, the manure storage, the office building and the truck wash site).
The scales of the collection center are calibrated and the certificate of conformation is issued every year.
The collection center is open Mon-Fri 8.00-16.30
Contact:
Lauda tee, Kaunissaare village, EE74309, Anija parish, Harju County. GPS 59.318919, 25.336135
Phone: +372 5916 3995
e-mail: kogumiskeskus@etky.ee
EU approval No.: 01/21 / LKK
Registration number in ARIB: EE29746
The owner of the animal is obliged to read the "Procedure for Acceptance of Animals to the Collection Centre" before sending them to the collection center.